60 Second Tip: How to Create Custom Keyboard Shortcuts in Photoshop
Posted by
The Dream Within
on Dec 30th, 2019 |
Comments Off

on 60 Second Tip: How to Create Custom Keyboard Shortcuts in Photoshop
In the most recent episode of Adobe's "Photoshop Magic Minute," Photoshop Product Manager Meredith Stotzner shows you how to create your own custom keyboard shortcuts in Photoshop in just 60 seconds.
This might seem overly basic to some of our readers, but it's a workflow lifesaver for beginners and enthusiast users who have never discovered this functionality before. So while the video was created because Adobe has recently added several tools to Photoshop that don't have dedicated shortcuts, this knowledge will come in handy no matter which tools you use most.
The process is incredibly simple, and takes just four steps:
Go to Edit > Keyboard Shortcuts
Scroll to the tool you want to assign, and click in the Shortcut column
Type in the key combination you want to use
Click "Accept"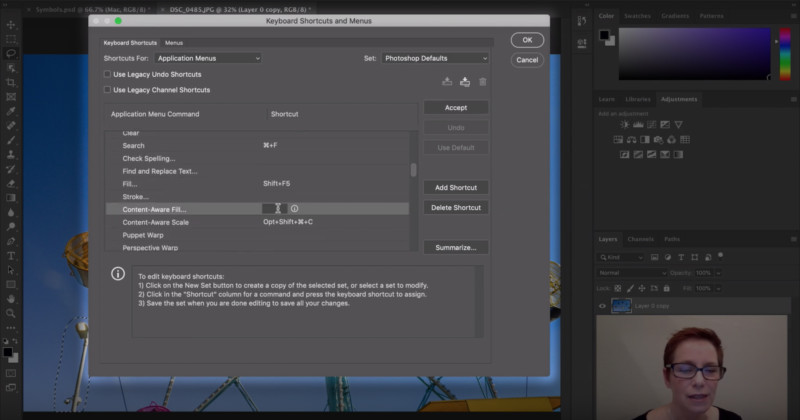 Photoshop will show you a warning if that shortcut is already being used for another tool, but as long as you don't mind reassigning it, you're fine. Just click Accept. If you don't want to remove that shortcut, simply come up with a different key combination until you find one that works for you.
And that's it! Watch the step-by-step up top, and if you want to see other 60-second tutorials from Adobe, you can find lots more on the Photoshop Magic Minute playlist on YouTube.
[via
PetaPixel
]
Visitors: 345