A Rare Look at How Apple Likely Does Product Photography
Posted by
The Dream Within
on May 16th, 2013 |
Comments Off

on A Rare Look at How Apple Likely Does Product Photography
Here's a rare look at the making of a cover for the Macworld Magazine done by Peter Belanger – a photographer who has worked with Apple for years. In order to fit in a lot of information into a short amount of time, Belanger set up his 5D to collect timelapse footage of the project. While the video does leave out a lot of the early development stages of the cover design, such as meetings, the video is still fascinating as it take viewers on a tour of an otherwise relatively unseen side of the work that goes behind photographing Apple products:
To capture the cover that you see below, Belanger started arranged the iPhones in different ways until finally settling on this placement. As you saw in the video, he also experimented a bit with different light setups. Using large, white diffusers he was able to light the iPhones using soft light, which also helped to eliminate any shadows.
As far as equipment goes, he used a Phase One P65+ digital back that he attached to a 4×5 Sinar X camera. A 65mm prime lens was used to capture the image.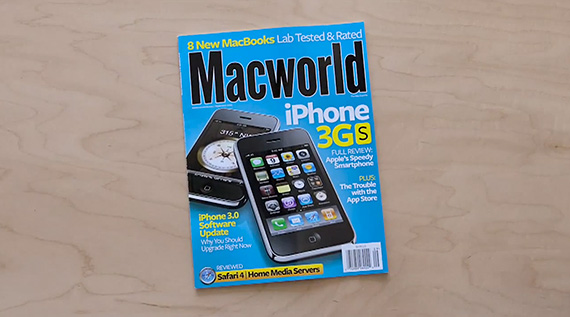 "After working on the latest cover for Macworld Magazine I wanted to show what is involved in making a cover. I focused on the three main areas: the photography, photoshop and design."
Regarding his time working with Apple on product photography he has said this to The Verge,
"The team at Apple always has a really well developed shot list and sketches of what they need. I work with their talented art directors to translate those sketches into photos. We start by getting the position of the product and then move forward on lighting. Because Apple products have such carefully selected materials it is incredibly important to light the product in a way that will showcase the various materials accurately. I pick an area to start with and think about how that material needs to be described. Once that section is done I move on to the next. This is how my sets get so complicated! I need to have control over each and every surface so when the client asks for a highlight to be elongated, I can do that. It's similar to working on a file in Photoshop: you don't do all your work on one layer. I think of my lights as layers that I can adjust individually to get the desired results."
[via PictureCorrect Photography Tips]
Visitors: 497