There and Back Again: Passing Photos Between Lightroom and Photoshop
Posted by
The Dream Within
on Nov 30th, 2019 |
Comments Off

on There and Back Again: Passing Photos Between Lightroom and Photoshop
Lightroom and Photoshop are designed to work hand-in-hand, so you can easily pass photos between the two programs while you're working with them. Photography instructor Phil Steele of Steele Training made this beginner's 17-minute tutorial on doing "round trips" (and even "nested round trips") with photos between Lightroom and Photoshop.
After selecting a photo in Lightroom, you can edit it in Photoshop by selecting Photo→Edit In→Adobe Photoshop (the keyboard shortcut is CMD/CTRL+E).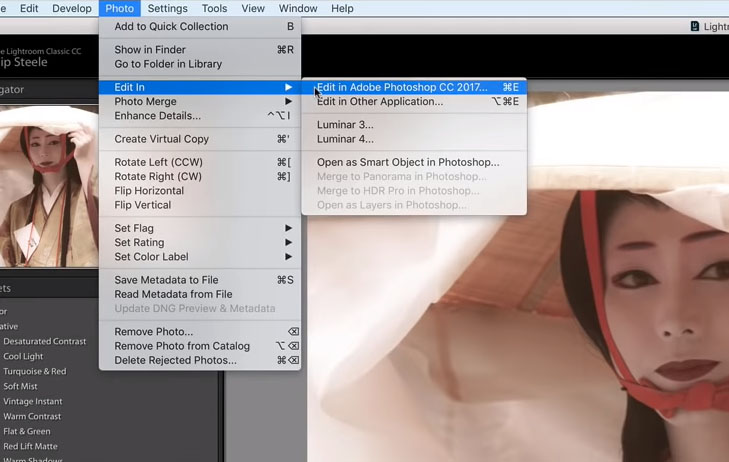 Any adjustments you've already made to a JPG or RAW photo inside Lightroom can be carried over into Photoshop.
After you've finished editing in Photoshop, saving the file causes the new edit to automatically be imported into Lightroom. If you'd like to make multiple round trips between the two programs while preserving your Photoshop layers, one way to do so is to create virtual copies of your files (preserving the Lightroom edits) and then sync those edits to new copies created by Photoshop.
Finally, Steele demonstrates how you can open and edit your photos with a 3rd-party program inside Photoshop (e.g. Skylum Luminar) during a round trip, something Steele calls a "nested round trip."
Watch the video above for a step-by-step walkthrough on how this basic process is done. You can also find more of Steele's training on his website and popular YouTube channel.
[via
PetaPixel
]
Visitors: 312