This Tiny Hotshoe Light Meter is Perfect for Film Photographers
Posted by
The Dream Within
on Nov 24th, 2019 |
Comments Off

on This Tiny Hotshoe Light Meter is Perfect for Film Photographers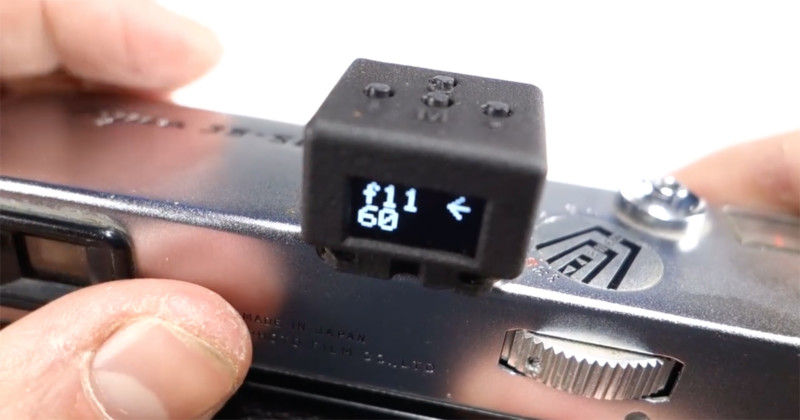 A new light meter has taken Kickstarter by storm this week thanks to its incredibly small size. The so-called "Reveni Labs Light Meter" is a tiny digital light meter that's less than 1-inch in every dimension, weighs just 8g, and slots conveniently onto your camera's hot shoe.
The Reveni Light Meter was invented by Canadian electrical engineer and photography enthusiast Matt Bechberger, who wanted something that would be small and convenient to use with his old film cameras, many of which had no functional light meters.
"Handheld light meters are clunky and difficult to use, while juggling your camera and other equipment," writes Bechberger on the Kickstarter campaign page. "The light meter I created uses modern technology to add metering onto any camera."
Here's the Kickstarter video that covers all of the diminutive light meter's key features:
Using the light meter is extremely simple. It runs off of a single LR44 battery and can meter between an ISO range of 1-12800, an aperture range of f/0.7 – f/128, and a shutter speed of 8min to 1/8000s.
You cycle through options like Film ISO and Metering Modes using menu button, set your aperture or shutter value using the left and right arrow, and take a reading using the power button. It's pretty straight forward, and makes it easy to go seamlessly from taking a reading to shooting.
Since launching the campaign just a few days ago, Bechberger has already raised nearly $ 25,000 on a goal of just $ 12,000.
As with any crowdfunding campaign, it's entirely possible that Bechberger underestimated the funds he will need to bring this product to market, but he says he's done with the development and engineering, and has posted a "conservative timeline" that has him shipping the Reveni Light Meter to backers in September 2020.
A single Light Meter with two batteries and an instruction card will run you approximately $ 95, or you can pick up a two pack (with four batteries) for approximately $ 170. To find out more about the Reveni Light Meter or pledge your support, head over to Kickstarter.
(via DIY Photography)
[via
PetaPixel
]
Visitors: 389